Hardwood Stairs: Add Luxury and Sophistication to Staircases from Georgia to California & Beyond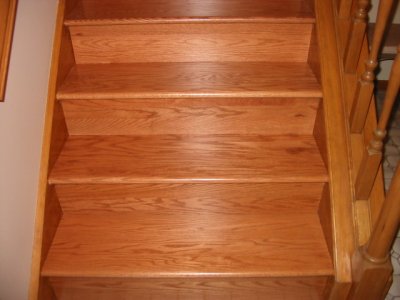 Upgrading from carpet to hardwood stairs, or simply replacing old stair treads, is an easy way to add an air of sophistication to a home. Whether you live in Pennsylvania or further south in Florida, Stair-Treads.com is sure to have the hardwood stairs you are looking for.
All our prefinished hardwood stairs can be custom-stained to match existing flooring in a home, or a color can be created based on other specifications. We have 90% approval from our customers on color matching of hardwood stairs on the first attempt.
For your convenience, we offer several different types of hardwood stairs and coordinating pieces to fit any project or budget:
Traditional Stair Treads and Risers – Available in a variety of wood species, our traditional treads and risers for hardwood stairs are made from solid wood and are designed as complete replacements for existing stairs. They can be bought as natural wood grains or can be custom-stained to your satisfaction.
Retro Replacement Stair Treads and Risers – Designed as "caps" to fit over existing carpeted stairs and risers, retro stair treads and risers are a quick and cost-efficient way to upgrade to hardwood stairs. Their easy installation can be done by homeowners, without having to hire outside help, with little construction knowledge and basic tools.
Handrails – We also carry a selection of 6010, 6040, 6042, 6210, and 6910 handrails to complement your hardwood stairs. Available in 12" pieces and in a selection of popular wood species, our handrails can also be custom-stained to match existing wood features and stair treads.
If you have any questions about prefinished hardwood stairs, our stain matching process or any of our other products, please contact us today and we will be happy to help you.
Ready to get started?