More Information on Retro Treads
Retro Stair Tread Application
Quite often, we are asked variations of the same question:
I have a 1970's built home and have 2 x 12's installed in my home. The stair was carpeted, and after removing carpet, we find the existing tread is constructed of 2x12-inch lumber. The width of the tread (distance from riser to front edge) is 10 inches, the thickness is 1.5", and the length is 34" (closed box). The height of the step (from tread surface to the upper tread surface) is 8". There are two stringers, into which the 2X12's treads are horizontally nailed into from the outside of the stringer. Would this construction be compatible with your product that is installed over the existing stair treads? We would keep the risers presently in place.
The short answer to this question is "yes," but sometimes a picture is worth a thousand words. Because of the design features and installation method of our Retro Replacement stair treads, you can actually use any thickness substrate or sub-tread as a base for the retro replacement stair tread. In the below diagram, the retro replacement stair treads are installed over a 2" sub tread.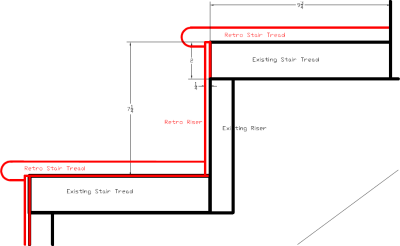 As you can see in the above image, the entire sub tread is only covered by 1/4" of the new retro tread, but the new retro riser does cover the old tread in its entirety. Once installed, neither the old 2x12 nor the old riser will be visible because the retro tread and riser combination will cover the all of the old material. This same principal can be applied to any thickness of sub-tread, regardless of the thickness.
If you were to keep the existing risers installed and not use a new retro riser, the edge of the existing sub-tread would be visible and hence, we do not recommend leaving the old riser installed without installing a new retro riser.
Can I use a 3/4" white riser with the Retro Stair Treads
Yes, a standard 3/4" primed white riser can be used with the retro replacement treads.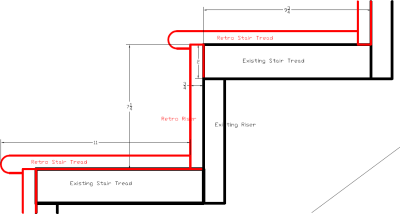 If you look at the above picture, you will see that the 1/4" risers have been replaced with the 3/4" solid risers. Depending on your existing tread depth, it is possible to install 3/4" white risers with our retro replacement stair treads. The main concern is to ensure that the depth of the existing stair tread plus the 3/4" thickness of the white riser does not exceed the 10 1/4" bottom relief cutout of the retro stair tread.
Ready to search for Retro Replacement stair treads?
Looking for 3/4" Thick White Risers?
Need 1/4" Thick White Risers?