Landing Panel System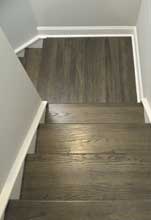 We've upgraded our landing panels to be an even better solution to cover intermediate landings, kite steps, pie & wedge steps and any areas that a standard 11-1/2" retro or traditional tread just isn't wide enough to cover!
Our new landing panels are 3" wide x approximately 72" -94" long - available prefinished or unfinished, and fit together just like 3/4" hardwood flooring. Click below for more information.
Read a post on the new landing panels »