Installation Video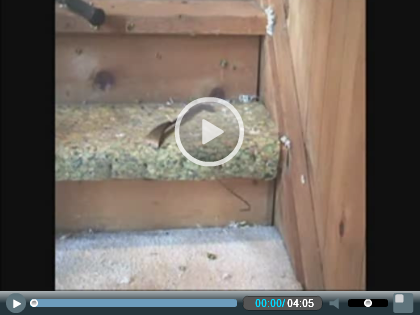 One of our customers has put together a great installation video of his installation techniques of our prefinished Ash Retro Replacement stair treads. This is a great resource and details the basic installation process.
Be sure to see our Current Installation Video for an updated look on how to install prefinished stair treads
Here are a couple of key features that we find in this installation video:
Gary starts by removing the existing carpeting and padding. This is done by using a razor knife and cutting the carpet in manageable strips. The carpet can then be simply pulled off (this may take some effort)
He then uses a "cats paw" or a small pry bar to remove any existing tackstrip along the edges of the existing stair
The carpet pad is removed by pulling the piece or pieces by hand
This process is continued until all the stairs are bare
Once the carpet and pad is removed, there will likely be staples remaining on the existing stair treads and risers
These can be removed with a pry bar, screwdriver, putty knife or even a sander with a heavy (16Y) grit sandpaper.
Next, he uses a reciprocating saw, sometimes known as a sawzall, to remove the overhang of his existing 2 x 12's
Notice that his existing stairs do not have an existing bullnose but he still needs to remove any overhang from the step to ensure a flush fit of the new retro treads
For this installation, Gary added additional trim along his skirt boards for a more decorative appearance
If you notice, he is using a small shaving from the end of a retro tread to measure and draw any cuts and angles without actually having to position a full tread in the opening. (See the shaving at 3:08 just over the pry bar)
Next he measures and cuts the tread to fit on an individual basis - measure with care - each step is likely to be a slightly different dimension. The idea is to cut the tread as close as possible to the actual dimensions needed
He measures and cuts the riser in the same manner. The riser is secured with a small gauge brad nailer with a good bead of construction adhesive as well
At 3:19 - the wedge and screws are used to hold the treads in place while the glue dries. The screws are attached to the stringers and the wedge is tapped in place. The wedge and screw is removed after the glue dries.
At 3:40, Gary needs to add shims to bring a riser to square. He adds several shims and marks their positions on the treads below with a dry erase marker so he knows where to nail once the riser is in place
He continues this process for the remaining treads and risers until all of the treads are installed
From here, you may want to review our written installation instructions.
Special thanks to Gary Myers for shooting this video