Staining Stair Treads
Once the treads have been sanded to the appropriate smoothness it is time to apply the stain. It might be best to lay down the plastic drop cloth and stained treads over the cloth. Staining can be messy at times. I would recommend staining the bull nose top and bottom before staining the surface of the tread.
You will want to apply the stain moving in the direction of the grain.
The darkness of the stain is determined by how much is used and the amount of time the stain sits on tread. If you want a darker stain let the stain sit for a moment after it has been applied and then wipe away the access stain. You may want to try different durations of time if you are trying to match existing hardwood in your home, to obtain the most accurate match. You can do this on the backside of one of your treads or using the back of a sample piece of wood. Make sure the sample you use is the same species of wood your treads are.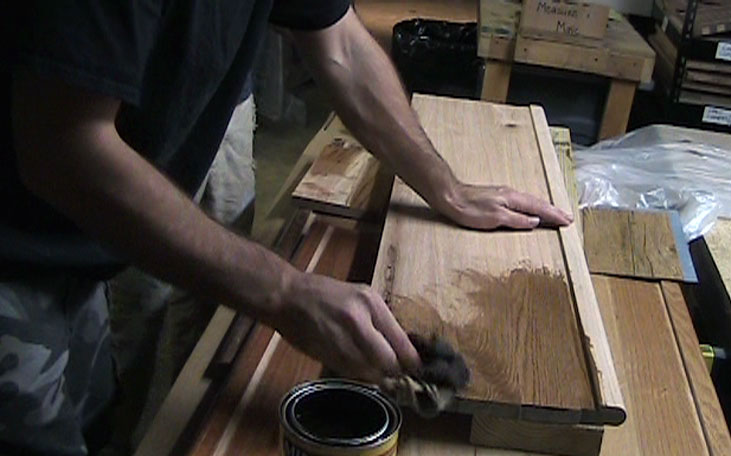 Use one cloth to apply stain and another to wipe away stain. Using two rags, dip one rag in the stain and than wipe stain onto tread, then using the other dry rag wipe stain off for desired color. You want to change your wipe off rag often as it becomes saturated with stain. It is also best to cover a small area at a time in order to keep the stain color consistent. I recommend going from the front of the tread to the back and working your way down the entire surface of the tread. Once the entire tread has been stained it is best to let the tread dry for a full 24 hours before applying polyurethane.