Converting Carpeted Stairs to Hardwood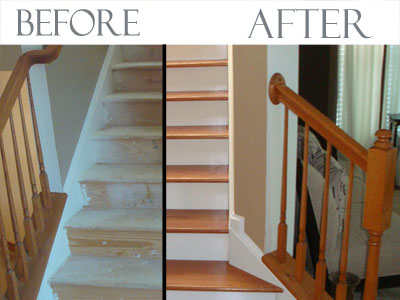 Tired of the maintenance required for carpeted stairs? Replacing carpeted stairs with hardwood does not have to be an expensive and time consuming task. Stair-Treads.com offers an alternative to home improvement stores and costly installation crews. With a vast selection of wood stair treads, Stair-Treads.com makes converting carpeted stairs to hardwood a simple, inexpensive, and do-it-yourself project.
Because carpet tends to trap dirt and debris, wooden treads are not only a more sleek and eloquent look for your home; they are also cleaner and easier to maintain. Stair-Treads.com makes the processes of converting your carpeted stairs as easy as possible. Offering over thirty-six different species of wood and seven stain colors, treads can be made to match any preexisting hardwood flooring.
If your looking for a quick and simple home improvement project, replacing carpeted stairs with hardwood can greatly alter the overall appearance of your home. The process is as simple as pulling up your existing carpet and replacing it with Stair-Treads.com's high quality wood products. Stair-Treads.com offers retro replacement treads and risers which can be conveniently installed over your current stairs for a quick and sleek improvement to your home. Replacing your old carpet stairs with hardwood treads will also increase the resale value of your home.
Make Stair-Treads.com your partner in replacing carpet stairs with hardwood. Stair-Treads.com is less expense than local home improvement stores and offers a vast selection of wood species, including hard-to-find woods such as Red Oak, Brazilian Cherry, Black Walnut, Mahogany, and Hickory. To begin the process of replacing your carpet stairs with hardwood contact Stair-Treads.com's knowledgeable staff today. With over-the-phone support Stair-Treads.com with assist you in replacing your carpeted stairs with hardwood every step of the way with helpful advice, installation tips, and much more.